Carolina Upholstery Shop & Showroom
8940 Flowes Store Road - Concord NC 28025 704-455-2004
Residential Upholstery - Commercial Upholstery - Marine Upholstery
Aviation Upholstery - Wood Refinishing
---
Carolina Upholstery Shop & Showroom of Concord North Carolina Works HARD for your business!
We are your complete source for ALL Upholstery and Wood Refinishing. Residential & Commercial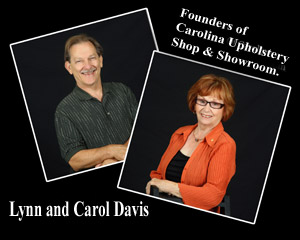 Since our inception in 1989, Carolina Upholstery Shop & Showroom has been a small, but mighty upholstery company in the community.  You may ask, "What makes us different from the competition?"
 Before we opened in June of 1989 we prepared and conducted a market survey. We analyzed area upholstery shops.
We determined that if we were to engage in this business, we must strive to be the best. Through continued commitment to quality and a lot of hard work with determination, we have achieved that goal.
← The Founders – Lynn and Carol Davis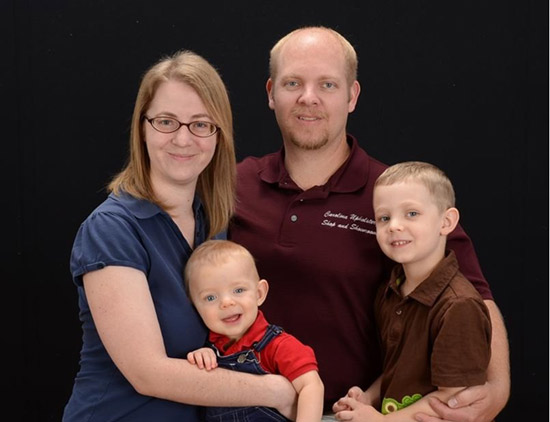 ← The New Owners – Justin Davis and family, the owners of Carolina Upholstery Shop & Showroom, a family owned business.
The Customer First:
The path we chose required of us the virtue of good character.  Additionally, we offered attention to detail, the combination of which has resulted in an excellent reputation.  We approached the customer and business relationship with a work ethic which puts the customer first, not the other way around.
Our Experience:
Consider for a moment our 23+ years with a wide variety of both residential upholstery and commercial upholstery disciplines which include…
Furniture
Automotive
Marine
Aircraft
Recreation Vehicles 
Patio Furniture

Church Pews

Wood Refinishing

Restaurants
Health Care Facilities
_______________________________________________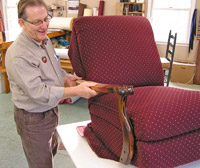 We are experienced with all the materials you will ever need including foam backed and perforated vinyls, coated polyesters, canvas, cotton, silk, and leather.
When you visit our site showroom we will absolutely delight you with possibilities as you look through our extensive selection of samples!
Click here and we'll open an extra page so you can visit one of our main suppliers to see the almost endless selection of materials and possibilities.
Over two decades in the making, our testimonials speak to the commitment we have shown our many customers. We invite you to see for yourself by visiting our testimonial page. We have found that people appreciate our commitment. We in turn appreciate your patronage.
Thank you for the beautiful work you did on my 'Wizard of Oz' chair! If I, or anyone
I know ever needs word working or upholstery  services we'll be in touch!
Jennifer Lawrence – Charlotte, NC  See more great testimonials…
Working with our customers, we delight in providing more service than expected at better prices than imagined.
You are always first when you choose Carolina Upholstery Shop & Showroom. We hope you will give us an opportunity to work with you for your small…or large project!
Spend a moment and view the short video slideshow below of some of our past projects…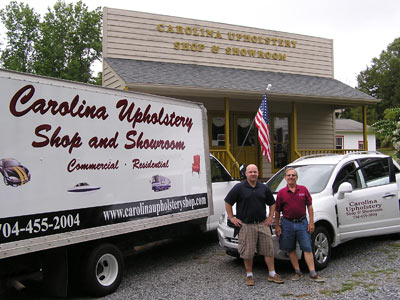 Our Shop for Your Home or Business…
Carolina Upholstery Shop & Showroom… We're mobile…
We're ready to roll when you call. Whether your job requires our in-shop service, or on premise work, Carolina Upholstery Shop & Showroom stands ready to work with you! Sure and complete service for our customers is the only way we do business.  _____________________________________
Carolina Upholstery Shop & Showroom
of Concord North Carolina
Serving Concord NC and surrounding communities
---
Driving Instructions From: CONCORD, KANNAPOLIS, SALISBURY, and points North …

More Directions



We are located at 8940 Flowes Store Road… Complete instructions follow…
If you are driving toward Concord-Charlotte on I-85, take exit: 60 – Dale Earnhardt Blvd. At the top of the exit ramp turn Left, crossing over I-85. This route turns into Copperfield Blvd.You will come to a traffic light, this is Route 3. Turn Left at the light. Route 3 East will take you toward highway 49 and Route 601.You will pass through seven (7) traffic lights. There will be a new CVS drug store on your right at the junction of Route 3 and route 601.On highway 601 cross over highway 49 – driving past A.T. Allen Elementary School on left. At the traffic light ahead you will see A.T. Allen Volunteer Fire Department – Turn Right onto Flowes Store Road.Drive 5.6 miles. Carolina Upholstery Shop and Showroom will be on your right.