Carolina Upholstery Shop & Showroom
8940 Flowes Store Road - Concord NC 28025 704-455-2004
Residential Upholstery - Commercial Upholstery - Marine Upholstery
Aviation Upholstery - Wood Refinishing
---
About Carolina Upholstery Shop & Showroom
Lynn and Carol Davis, the 'founders' of CAROLINA UPHOLSTERY SHOP and SHOWROOM envisioned a successful small business back in the late 1980's… and now they pass the torch to Justin Davis.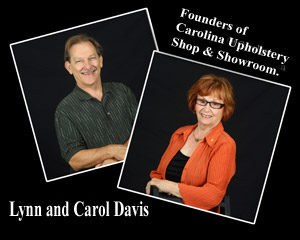 ▬▬▬▬▬▬▬▬▬▬▬▬▬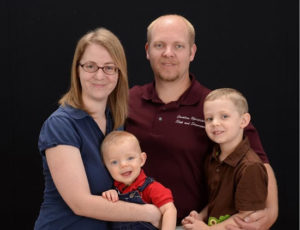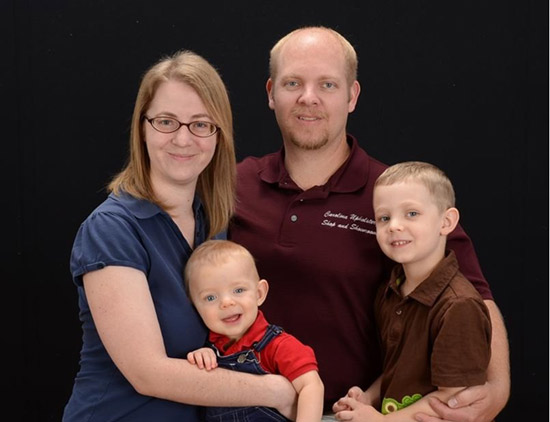 Justin and
Katherine Davis are the new owners.


Lynn is a four year United States Air Force veteran with a background in automatic flight controls systems as applied to jet fighter aircraft.  With his Honorable Discharge from the Air Force Lynn utilized the G.I. Bill, attending the University of Arizona, earning his BSEE degree in 1973.  Lynn joined Hughes Aircraft at Tucson, Arizona upon graduation.  While employed at
Hughes Lynn worked with global field support on air-to-air, and air-to-ground, and wire guided missile systems.
Lynn's hobby always centered on heirloom furniture. He felt that quality furniture should be refurbished and not discarded.  As time passed this passion for old furniture began to consume more of his time and energy. There came a day when his thoughts changed from hobby to that of  starting up a small business where he would become his own boss.  Carol, his wife, also appreciated well made furniture and she has the talent for decorating.  They realized that their mutual interest would be perfect when applied to the business venture.

Carol once said, "upholstery is not a dying trade" and she shares with Lynn a desire to see furniture restored to like new condition. To make a point, she and her sister once brought home two dilapidated chairs which had been removed from a home when the family moved and placed at the curb, destined for the landfill.  Those chairs now grace her living room enriching their lives providing comfort, style and value.
This same philosophy is meant to be shared with you. We invite you to explore your options with us, share with us.  Please visit us at the shop on Flowes Store Road.

In the spring of 2010 Lynn brought Jim Kelly into the upholstery business. His background in the military (United States Navy), was similar.  His interest in restoring old furniture and wood refinishing  matched Lynn and Carol's sentiments toward a business venture.  The addition of a wood craftsman has served to provide the company and their customers with a full upholstery in-shop service. Together they provide more than 70 years of experience and devotion to their craft. Allow us the opportunity to provide you with the comfort, style and value you deserve. 
---

About the new owners, Justin and Katherine Davis:
Justin is a 4 year veteran of the United States Air Force assigned to Air Force Special Operations, Hurlburt Field Florida. He was an aircraft crew chief and worked on the C-130 gun ships. During this time he was also assigned to the aircraft crash and recovery team tasked to go behind enemy lines and recover downed aircraft. While in the service he attended night classes and earned a Bachelors of Science degree in Professional Aeronautics. After his honorable discharge from the service he did contract work for Boeing developing technical data for aircraft.
 Justin's strive to achieve excellence in all he does and his attention to detail is brought to the family business. With an eye for quality and a determination to fix what is broken he has the abilities to be successful. "If somebody put it together then we can take it apart, fix it, and put it back together." "One of my greatest pleasures is restoring something that is damaged and near worthless to its true value."
 Katherine attended collage at Boise State University were she met and married Justin. She followed her husband to Florida while he served in the United States Air Force. She finished her Bachelors of Science Degree in Chemistry at The University of
West Florida in Pensacola. She now works for Best Company of Mooresville, NC as a validation chemist. She deeply understands the importance of quality and customer satisfaction. She encourages her husband to be the best that he can be. She also
appreciates having great newly upholstered furniture in the home!
 Their two young sons Dean (right) and Eric (left) love helping their dad in the shop and will soon be expert upholsterers.

---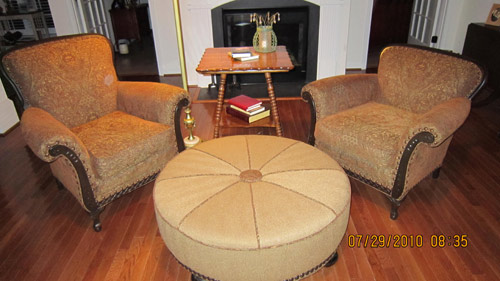 Most people don't go furniture shopping at the landfill, but some
do. Check out these two beautiful chairs straight from the garbage
dump to Lynn's shop, refurbished and ready for company.
Before you even think of weed patching your heirlooms, call Justin!